Welcome!

Welcome to Promotional San Diego!

Proudly serving San Francisco to Los Angeles since 1999!

Uniformity in needs doesn't exist in the country anymore because our culture has immensely diversified. America has become a multicultural nation and no part of the country forms a majority even in the largest cities. This therefore means that the old approach in promotional items advertising can't possibly work today. Here are 4 approaches to executing a more effective kind of marketing through corporate giveaways.

1. Don't go for the majority, reach the elite. When I say elite, I'm referring to the most influential people in the country, such as actors, models, politicians and athletes-people who the masses emulate. These people play a major role in advertising. In fact, these people are huge endorsers of big brands. So, what you can do is to reach out to them instead of tapping a specific group of people. Pamper them with promotional products or use them as your main theme for your advertising giveaways. For instance, you can give away promotional golf items and imprint a face of Tiger woods in each one of them. That'll really do it!

2. Segment, segment, segment.

This basically means that you will have to invest a lot of your time and money in building a great customer database where your market is classified according to the following: age, civil status, location, household composition, gender race and ethnicity. Knowing how to do market segmentation can help you make a more audience-appropriate design for your promo items.

3. When in doubt, ask.

History just keeps on repeating itself. For the past years, we cluster people into segments according to predictions and stereotypes, basing everything on lifestyle patters and behaviors. It's a hit and miss strategy. Sometimes, it's useful; oftentimes, not really. It has basically two setbacks if you ask me.

First, since America has been growing a more varied population, the members of the segments become fewer, and as a result, consumer insight becomes shallow and less relevant. Second, the clusters sometimes contradict each other. For example, young people may not necessarily like Miley Cyrus because they grew up in a place where people listen to grunge. A lot of Americans today are so unique and have a flexible and rich personality!

The point is: traditional market research method can't do the trick! Go social! Use online surveys to know what kind of advertising merchandise will appeal to your market. Take advantage of Facebook. Post something and see how many people will like or dislike it. Post a promo item design in the net and conduct a survey! People spend half of their day surfing, so take advantage of technology! Ask!

4. Give something useful!

But don't lose hope, there's a universal thing that can bind everything: functionality. If your corporate gifts are innately useful, such as promotional healthcare items or a promo pen, there's no way your marketing will be snubbed.

With over a decade of promotional experience and clients who make up a large part of the "who's who" list in the Fortune 1000, we can make things easier for you. The process of buying promotional products does not have to be difficult or time consuming.

We want you to know at some point in the past EVERY SINGLE CLIENT was in the exact same position you are in today: They used to work with another promotional company. Unfortunately for one reason or another that other company disappointed them. So they decided to contact us. We Guarantee our orders, we Guarantee our order quality, and we have an additional 5% Free Goods Guarantee. They have all been loyal clients ever since.


Featured Item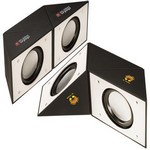 Dual Rotating Bluetooth® Speaker
ABS plastic case stereo speaker rotates 360° to create your own sound experience. Connects to your mobile device up to 98 feet away using wireless Bluetooth® technology or through the 3.5 mm audio cab...